Happy Halloween!!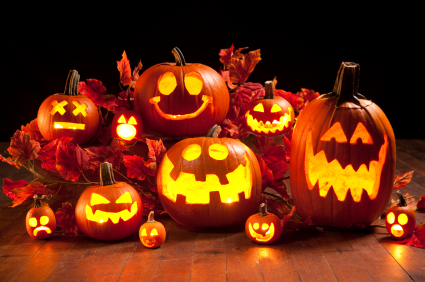 One of our favorite holidays of the year is Halloween. We love to see our windows, doors and siding as a backdrop for the many Halloween decorations adorning of our customers' homes. Halloween is a sign that fall is in full swing and that winter is right around the corner. It is time to prepare your home for the winter weather! From changing the rotted weather striping around your entry door, to adding insulation in the attic to replacing your windows with energy efficient upgrades, Windows on Washington can provide solutions to all your winterizing home improvement challenges. We are dedicated to making our customers' homes more beautiful, comfortable and energy efficient.
Winterize Your Windows
To improve the comfort level of your home and save on utility dollars, the experts at Windows on Washington suggest that you follow these tips to winterize your windows for the cold weather:
1. Remove your window screens and place them in storage.
2. Re-install storm windows.
3. Inspect the caulking around your windows to make sure they are sealed. Re-caulk any areas that are in need. Inspect the weather stripping around your windows to make sure there is a tight seal, and replace if necessary.
4. Inspect all locking mechanisms to make sure they are in working order and lock the windows. Windows in the locked position create a stronger airtight seal for increased energy efficiency.
5. Inspect windows for any loose panes and reseal, if necessary.
6. Install insulated shades over the windows to help keep the heat in and the cold weather out.
Learn How To Find The Best Replacement Windows
Replacing your old windows can be a great way to add value, energy efficiency and curb appeal to your home. However, finding the right replacement windows can be an overwhelming task. There is no shortage of options out there and it can be hard to know which ones are right for you and your home.
1. Find a Reputable Dealer & Installer
This is the single most important factor in getting the best replacement windows. The most professional and reputable companies usually carry the highest level of available licensing to reassure customers that they take their business seriously and are committed to quality work.
2. Get Informed About What Those Acronyms Used to Describe Replacement Windows Really Mean
R-Values, U-Factors, CRF, STC, SHGC, it can seem like a different language. There are resources to help explain these terms to you in a way that will help you understand exactly what they mean and how to choose a product for your home.
3. Consider the Look That Will Fit Best With Your Home's Style
Your contractor can help you explore all of your aesthetic options, but it doesn't hurt to put a little time into considering what YOU think looks good.
4. Choose a Reputable Replacement Window Manufacturer With a Solid Reputation
Once you have thought about what you do and don't need in your new replacement windows, you need to find the right window manufacturer. A reputable installer can bring you up to speed on the best available products within your budget, but always double check for a solid manufacturing warranty that will protect your investment.
5. Take Your Time & Don't Be Pressured
A quality home improvement company lets its reputation speak for itself. Don't let high-pressure sales tactics hammer you into a quick decision. Move forward when you feel like you have the information you need and feel comfortable with the replacement window installer and manufacturer you have selected.
Latest Blogs
The Pocket Sill vs. The Slope Sill Replacement Window
How much should I expect to pay for my replacement windows?
Learn the Top 3 Questions When Deciding Between Vinyl and Fiberglass Windows
Crash Course: 5 Minutes, 5 Replacement Window Performance Values